Five Fabulous trainer Defibrillators
Castlemaine District Community Health will be able to offer an improved First Aid and CPR program thanks to a MtACE donation of 5 new trainer defibrillators. These units will enable more people to gain hands on experience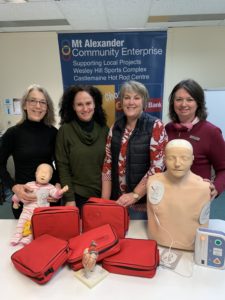 during the classes with the aim that they will be confident to use them in an emergency.
L to P Driver Program at Castlemaine Community Health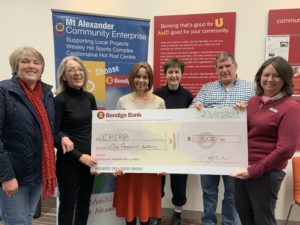 MtACE is pleased to support this terrific local program that assists young people to reach their 120 hours of driving. Our donation of $1,000 will help fund petrol costs. The program relies on volunteer drivers to assist these learner drivers gain the necessary hours.
Free Calico Shopping Bags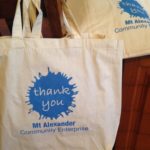 Mt Alexander Community Enterprise joined with local community group The Hub Foundation to promote plastic free July through the pages of the Castlemaine Mail.  Vouchers in the newspaper throughout July provided free bags to everyone. These calico shopping bags were provided to the community to help us reduce our plastic bag use. Thankyou to everyone who asked for a bag – every bit helps. Harcourt Core and Chewton Chat readers also received vouchers.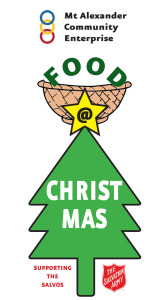 Food@Christmas
Mt Alexander Community Enterprise initiated a program to assist local families with food at Christmas. In conjunction with the Castlemaine branch of Bendigo Bank, numerous boxes of food and $1,000 was donated to the Salvation Army last year. The community was invited to drop off groceries to the bank foyer during November and the response has been substantial each year. The Salvation Army then distributed the food parcels throughout our local community to around 150 families.
Redesdale Respite House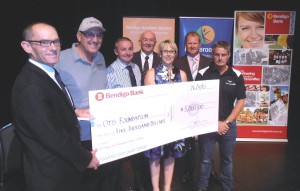 The cancer respite house in Redesdale received a donation from local Community Enterprise groups at a 2015 event at Ulumbarra Theatre in Bendigo. Kez's Hideaway is nearing completion and will provide respite accommodation for cancer sufferers and their families in Central Victoria. The 5 local enterprise groups: Mt Alexander, Kangaroo Flat, Eaglehawk, Strathfieldsaye and Bendigo Northern Districts, combined to make this donation to a project which they believe would assist people in our region in need of some respite from their treatment. The house is nearing completion and should be ready early 2016. Representatives from the Otis Foundation gratefully received a $5000 cheque towards finishing the house.
F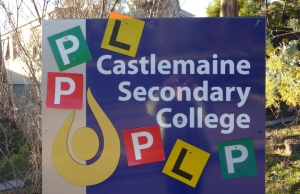 it2Drive
For 8 years MtACE has fully funded the Roadsafe Central Victoria Fit2Drive program for all Year 11 students at Castlemaine Secondary College. This program uses university students as peer mentors to role play actual driving situations as well as specialists from ambulance/police services to present real information regarding driving hazards. At around $2,000 per year, this is an important project available for free for every year 11 student with the aim of improving their safety once they get their 'P' plates.
Defib Your Club for Life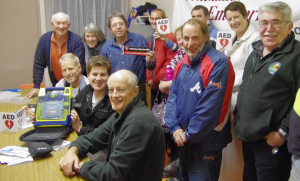 In conjunction with Mt Alexander Shire, MtACE  purchased and installed a potentially lifesaving Defibrillator at the Wesley Hill Sports Complex. In the event of a heart attack, these devices may prove critical in saving a life while awaiting an ambulance arrival. MtACE arranged an instructional session with Ambulance Victoria to enable all groups to experience the operation of the unit. Cost of the unit was $2,300.
Intensive 'L' Driver Program
For a numb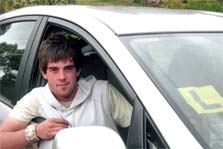 er of years Mt ACE has funded an intensive pre-driver program through Driver Training Academy. Each school holidays 3 students would spend a week together undertaking a driver training course to 'teach them how to drive rather than how to pass a driving test.' This program has now been replaced by the Fit2Drive program to enable all local students to benefit from pre-driver information.
Run the Maine
In 2013 Mt ACE provided support for the Run the Maine event which is a fundraiser for Castlemaine Health and Cystic Fibrosis. In conjunction with Bendigo Bank and Bendigo Telco, funds were donated to support the run.