Wesley Hill Sports Complex
January 2019 – GREAT NEWS! The pavilion keys have been handed over and everyone is ready to start the new year with terrific new facilities. Congratulations to the project builders and managers for delivering this on time and on budget.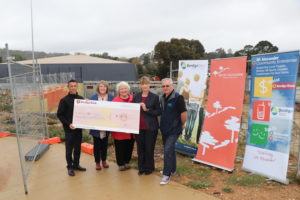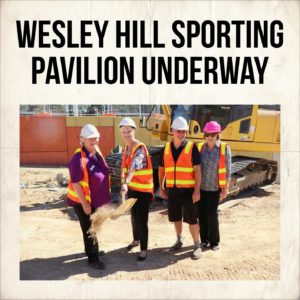 December 2018 – Work on the new pavilion is completed on time. Congratulations to the contractors. The building will be ready for use for the 2019 sports season. Lights are going up around the oval also.
June 2018 – Great day to hand over our $100,000 cheque towards this project – Thankyou to all.
April 2018  – The first sod has been turned on Stage 2, the new sports pavilion. Contractors Fairbrother are on site with the work to be completed ready for use by football, cycling and netball next year.  Stage 1 netball courts have been completed with the official opening on April 21.  MtACE is contributing $100,000 to this project – Thankyou to everyone who uses Bendigo Bank and Bendigo Telco and links their account with MtACE – so easy!
At their meeting in June 2014, Mt Alexander Shire Councillors agreed to proceed with a three-stage redevelopment of the Junior Sports Complex at Wesley Hill. The proposed cost would be $5.8 million for all three stages.
Stage One was estimated to cost $1.7 million and would include compliant netball courts, a netball pavilion with covered area, ground works, court lighting, ramps, steps and roadway.
Stage Two is estimated to cost $2.3 million and include a multi-use pavilion, roadway and drop-off, ramps, steps and external works.
Stage Three is estimated to cost $1.8 million and include a cricket pavilion, car park and roadways, playground, barbecue, walking/running tracks and landscaping
The Wesley Hill Sports Complex is the home to hundreds of users every week – football, basketball, netball, cricket, cycling, badminton, billiards, remote control cars, little athletics. These clubs recognise the need to upgrade the facilities and the Wesley Hill Sports Complex Redevelopment group are aiming to make it happen.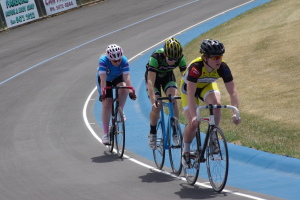 Mt Alexander Community Enterprise is financially supporting this group in their efforts and have already reached $100,000.
Discussions with Mt Alexander Shire to develop a site Master Plan are progressing and the user groups were ECSTATIC when in July 2014 the Council reached an agreement to proceed.
Immediate needs are the relocation of the netball courts and a pavilion with changerooms and all facilities.
Cricket nets and facilities, public toilets, basketball court upgrade, walking tracks, BBQ and playground, parking, remote control car driver stand, are all on the agenda.
In the longer term other requirements are a new standard size velodrome and even a second football oval once the local junior football program moves to Wesley Hill.
Mt Alexander Shire will be seeking government grants and community funds to assist with these redevelopment stages and Mt ACE will be able to provide financial support for the user groups.